July 19

Attendance Record
15
Thanks to loyal Tea Bag supporters, the previous attendance record of 6 was shattered at the last game versus Ledos Lounge. If the fans continue with numbers like that, it may just warrant a special guest appearance by the Tea Baggers fowlest fan. But When?

July 5
The first annual Tea Baggers Post-Season Bash will surely be a festive occasion. Along with live entertainment from Salty Hortense on the Lip-Trombone, the Baggers will be treated to 5 cases of premium beer, thanks to Clifford, Gil , and James Harris. The evening will be followed with a Saturday morning tribute to Drum, as we view the long, lost episodes of Bebe's Kids.

June 28
The DEN MOTHER was victorious in her duel with Drum at the 2000 Half-Cup Chug Chug Championship. The DEN MOTHER capped an all-star year by slugging four half-cups in a record time of 11.2 seconds. Rumor has it that she will be contemplating retirement following a month's absence.


June 26

BAG IT UP: Sowell released following extended absence

DUBLIN, OH (AP) TEABAGGERS -- Requested waivers on infielder Calvin Sowell for the purpose of giving him his unconditional release; recalled mascot Regis the Super Chicken from the San Diego Hens of the Pacific Coast League (AAA); activated outfielder Ellis Valentine from the 16-year disabled list and optioned him to the Tucson TEABAGGIES.


The SuperChicken Chronicles
click here
a must-see for all Regis the Superchicken Fans!


Last Game
Loss vs Sisters of the Poor
0-21

Final Record
6-5
4th Place!
MVP
Joe Gold
2-2, raw chicken, shaved neck

Lenny Dykstra
NAILS Award





Terry Morain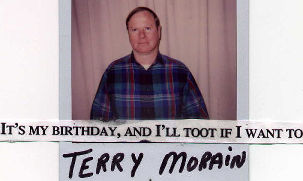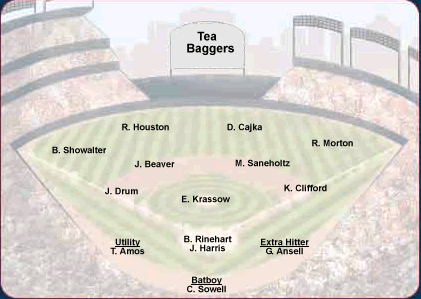 Team Photo

Injury Report
* Beaver - two weeks in rehab should be enough to kick that Percaset addiction
* Cajka - lucky for him, the doc says that the warts should not interfere with his sexual relations (also due to a diminished pheremone count)
* James Harris - should have taken heed to warnings before developing that nasty phlegm infection
Wounded:

Bagger Pride

Cajka
A retrospective